APPD's Confronting Racism Action Team – Residency Curriculum Subgroup
Curricula For Anti-Racism: a Guided, Organized Framework for All Residencies (C-FAR-GO-FAR)
Our subgroup's goal is to assist residency programs in beginning or enhancing curricula that train anti-racist pediatricians who have the necessary knowledge, skills, and attitudes to become pediatricians who celebrate diversity and proactively engage with and advocate for systems and structures to improve the care of marginalized populations.
Our objective was to identify existing resources that can be used to begin or enhance residency AR-JEDI (anti-racism, justice, equity, diversity, inclusion) within an organized, usable framework and resource list for programs to use via the APPD website.
We created an organizational matrix of outstanding existing AR-JEDI curricula built using the framework of the American Board of Pediatrics (ABP) Entrustable Professional Activity (EPA) focused on addressing racism and inequities entitled Use Population Health Strategies and Quality Improvement Methods to Promote Health and Address Racism, Discrimination, and Other Contributors to Inequities Among Pediatric Populations.

If you have questions about using this resource, please contact Heather Aschoff and Chandra Smith (coordinators at the Medical College of Wisconsin-Milwaukee) who help us maintain the C-FAR-GO-FAR.
If you have suggestions for resources for us to review, please email info@appd.org.  We are steadily trying to add to our list of amazing resources for use in your program.
Sincerely,
The Confronting Racism Action Team- Curriculum Subgroup
Mike Weisgerber, Sarah Gustafson, Annie Gula, Stacy Laurent, David Turner, Uche Oddiri, Jo-Ann Nesiama, Heather Aschoff, Chandra Smith
This matrix references a variety of resources according to the educational strategy used (workshops, simulations, didactic session) and location (MedEdPortal, Share Warehouse, standalone websites, and more).  The Y axis of the matrix is the 7 domains and subdomains of the EPA.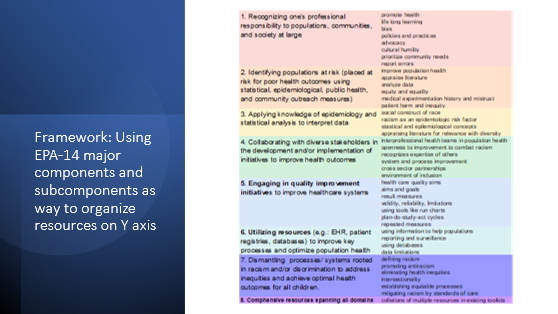 The X Axis contains various educational strategies.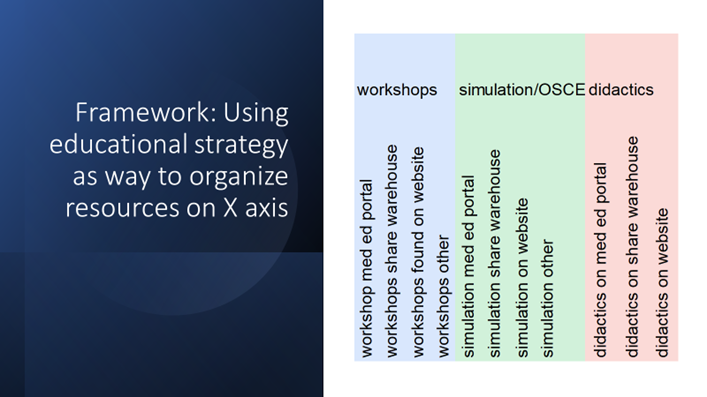 The C-FAR-GO-FAR matrix allows the user to identify a certain element of the EPA addressing racism and inequities and corresponding educational strategies that are used in existing curricula.  C-FAR-GO-FAR lives at the link below as a 2 worksheet excel document.  Worksheet one is the complete matrix.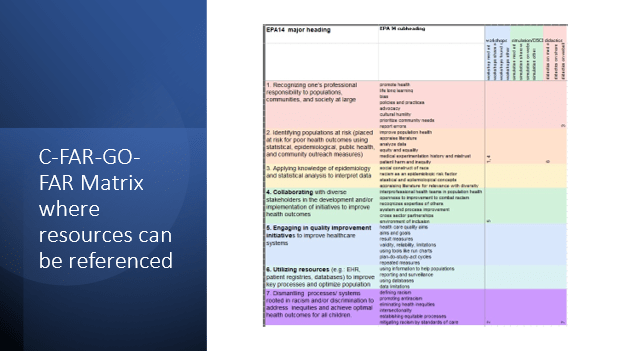 The view-only excel document link is below.  The 2nd worksheet with references can be sorted by domain.  For example, if looking for references about domain 1 (Recognizing one's professional responsibility to populations, communities, and society at large) just sort or filter that column.   Also, if searching for a keyword in a title just use "CTRL-F" and search for a term.  For example, if looking for titles about resources about microaggressions try searching for that term.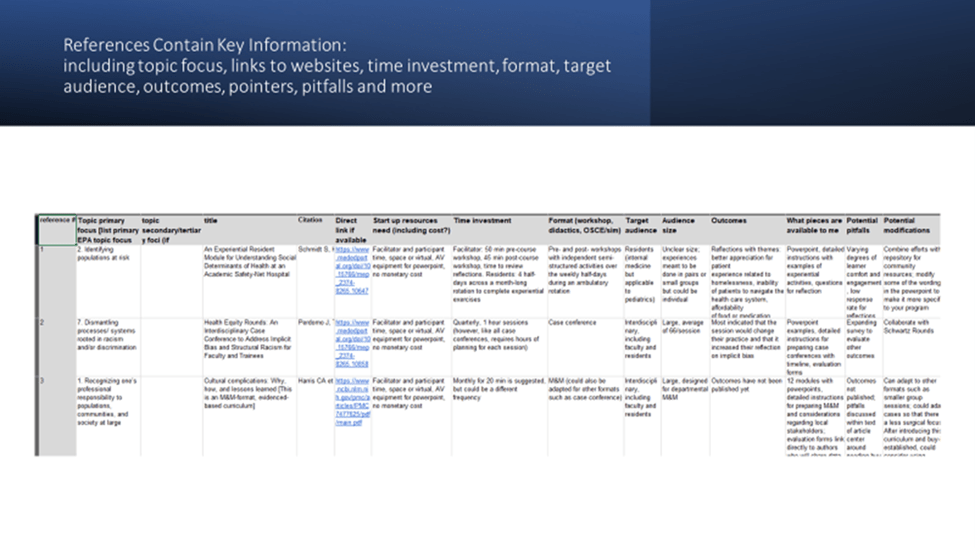 You can click on the link to identify where the resource can be found, such as mededportal.org, share warehouse or another website.
Each resource has been reviewed by 2 reviewers from 3 of our learning communities (Curriculum LC, Under-represented in Medicine LC, Advocacy LC).