APPD AIMS (Advancing Inclusiveness in Medical Education Scholars) Program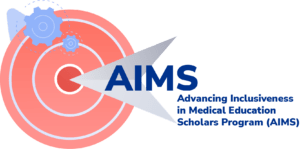 What is the AIMS Program?
The AIMS Program provides professional development and mentorship with the objective of exposing underrepresented in medicine pediatric residents to the APPD community, and careers in pediatric medical education, earlier in their training with the goal of increasing diversity in pediatric medical education leadership.
Recent Publication:
AIMS: Increasing Diversity in Graduate Medical Education Leadership
Lahia Yemane, MD; Emma Omoruyi, MD, MPH; Patricia Poitevien, MD, MSc; Rebecca Blankenburg, MD, MPH
J Grad Med Educ (2022) 14 (3): 340–342.
AIM Scholars programming the day prior to the APPD Annual Spring Meeting, including

Overview of careers in medical education
Panel discussions
Speed mentoring
Networking with APPD leadership and members

Paired with a faculty mentor outside of your institution who is a member of the UIM Learning Community
Attend the APPD Annual Spring Meeting, including the UIM Learning Community meeting during the conference
The application process is web-based and requests:
2nd year categorical pediatric resident or child neurology resident or 3rd year resident in a combined pediatrics program in good standing at a residency program that is a member of APPD
Those who identify as Underrepresented in Medicine
Required to attend the pre-conference and APPD Annual Spring Meeting
Complete online application
Demographic information
Curriculum Vitae
Short essay questions,

Why are you interested in applying for this program? How does it align with your future career goals in medical education leadership?
What specific goals or skill sets would you like to gain from this program?
What skill sets and/or perspectives do you bring to this program?

Letter of recommendation from your Residency Program Director
Letter of recommendation from another Pediatric Faculty Member at your institution
Application system is closed.

Co-Director, AIMS (2022-2024)
Program Director, UTHSC Houston


Co-Director, AIMS (2022-2024); Chair, URIM Learning Community (2022-2024)
Program Director, Atlantic Health/Goryeb Children's Hospital


Past Director and Co-Founder
Associate Program Director, Stanford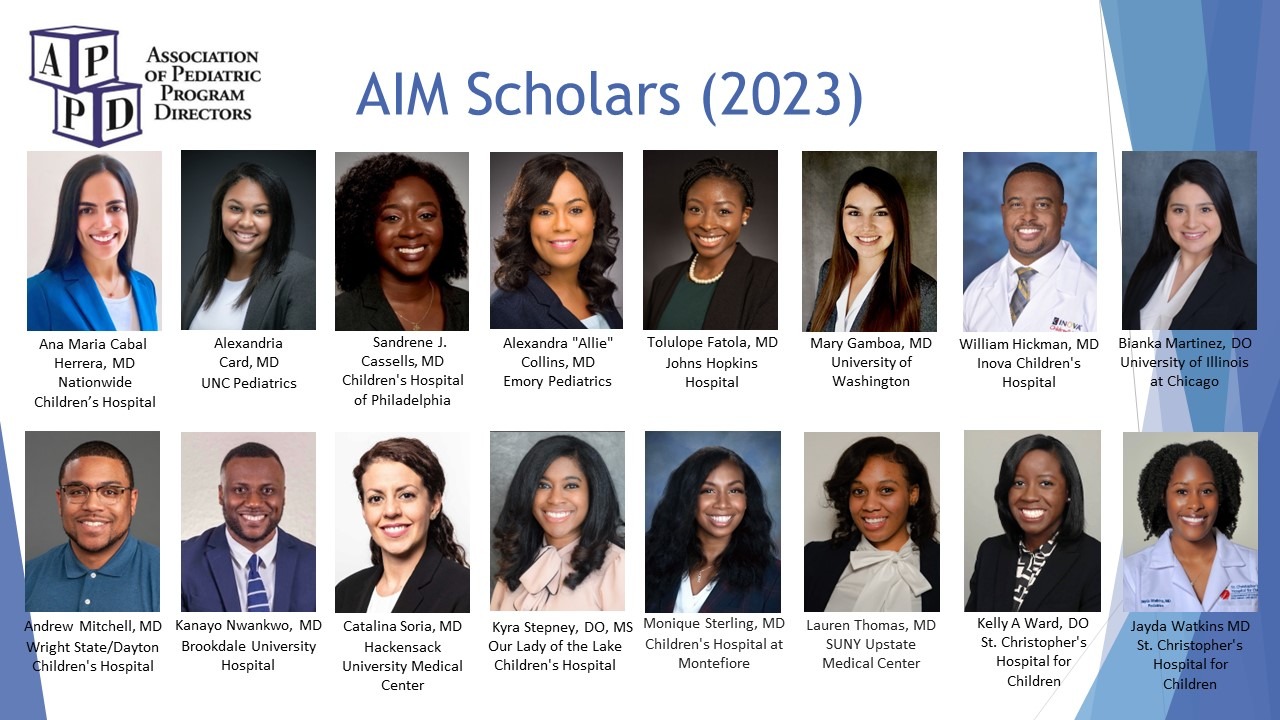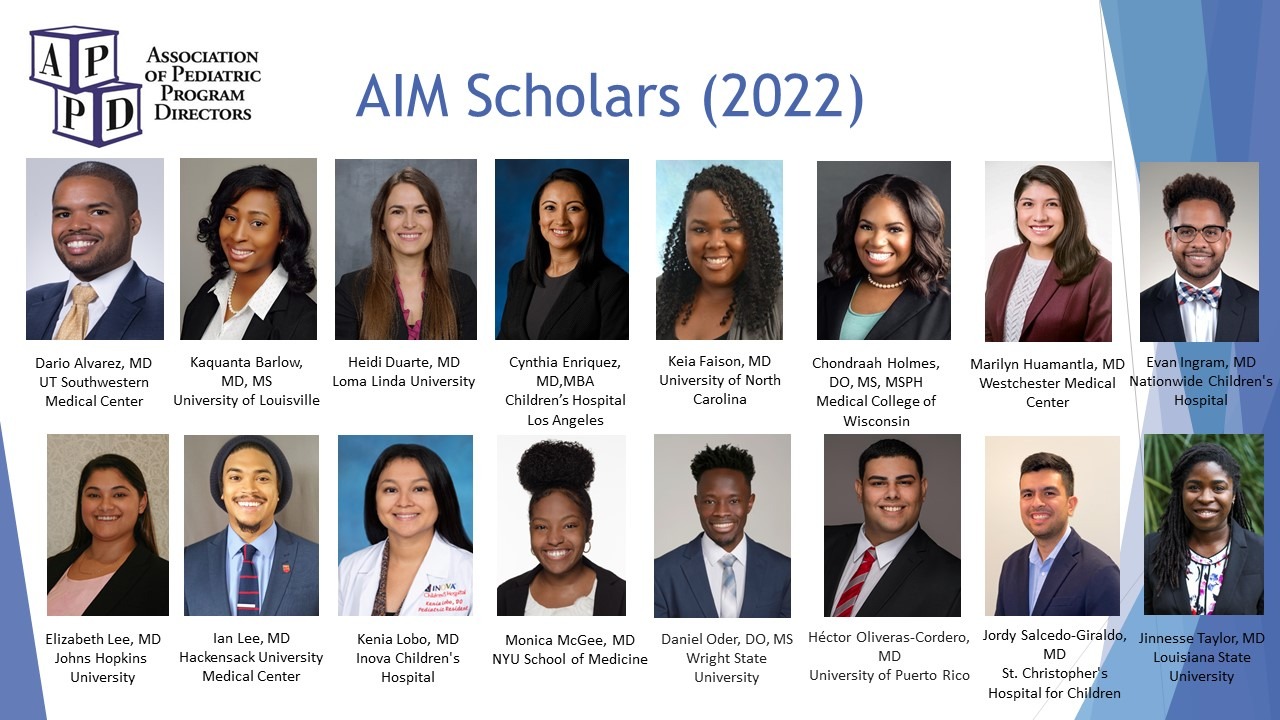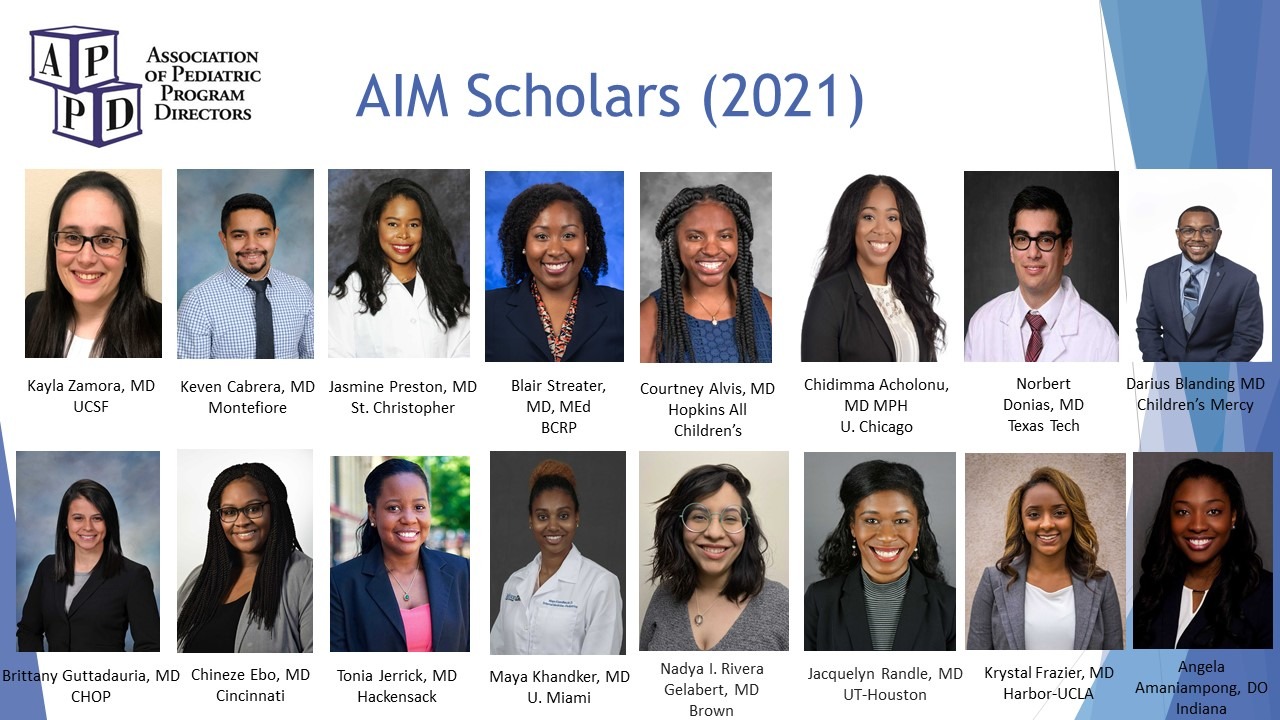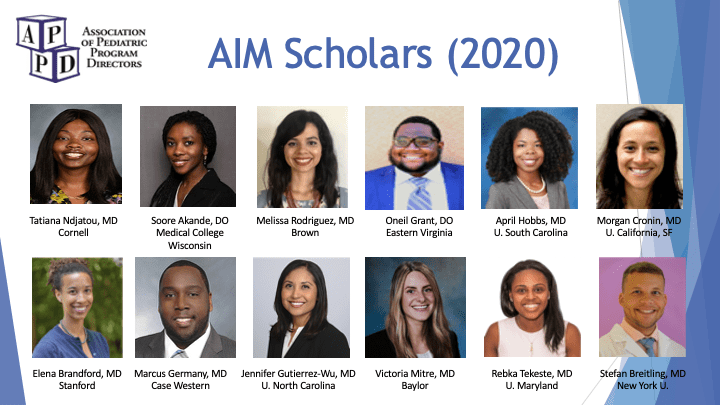 Donate
Donations may be made to the APPD Advancing Inclusiveness in Medical Education Scholarship (AIMS) for Underrepresented Minorities in Pediatric Medical Education Fund.